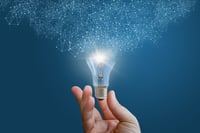 I vårt forrige webinar fokuserte vi på hvordan vi kan styrke enkeltsaker og hjelpe advokater med å foreta en mer effektiv gjennomgang og analyse i rettstvister. Dypere innsikt og forståelse av data er viktig i saksprosessering, men hvordan kan det være med på å gjøre advokatene enda bedre i hverdagen? I vårt neste webinar tar vi for oss hvordan kunstig intelligens og gode løsninger vil effektivisere advokatene hver dag – Ikke bare de gangene det er økonomi i prosjektet.
Read More
Topics: blogpost, norwegian, kunstig intelligens, Webinar, Content, legaltech, knowledge management
Advokatbransjen samlet på TechTorget
ayfie's LawTech lecture series - Watch the recording! [video]
ayfie's power features [part 2] - brand new eMail Threading
5 Reasons for Companies to Move to the Cloud
ayfie's power features [part 1] - emoji extraction
Begin extracting and correlating valuable insights from all of your content.
Contact us to schedule a product demo and see how quickly ayfie can extract the full value from your structured and unstructured data.