Recent Posts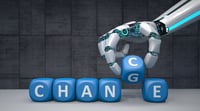 In the era of intelligence, it's all about using data and knowledge in the best way possible for insight and make decisions that give a competitive edge. The knowledge may be in the past, but the way to work and maximize that knowledge is in the future. It's all about next practice and not best practice. By using intelligent technology and AI, lawyers can be freed up from repetitive work and focus more on areas like strategy, vision and ethics, and becoming a strategic enabler for the business.

Read More
Topics: english, blogpost, Lawyer, brainwork, strategic advisor
Leveraging Data Insights to Create Proactive Workflows: An Ideal State
Last-minute checklist for visiting ILTACON 2019
Leveraging data insights to create proactive workflows - Join ayfie's session at ILTACON
Robots don't get bored - Automation vs. AI [video]
5 reasons to meet ayfie at ILTACON in August
Begin extracting and correlating valuable insights from all of your content.
Contact us to schedule a product demo and see how quickly ayfie can extract the full value from your structured and unstructured data.