Recent Posts
Oct 26, 2018 12:50:26 PM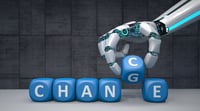 In the era of intelligence, it's all about using data and knowledge in the best way possible for insight and make decisions that give a competitive edge. The knowledge may be in the past, but the way to work and maximize that knowledge is in the future. It's all about next practice and not best practice. By using intelligent technology and AI, lawyers can be freed up from repetitive work and focus more on areas like strategy, vision and ethics, and becoming a strategic enabler for the business.

Read More
Topics: english, blogpost, Lawyer, brainwork, strategic advisor
Ikke permitter informasjonen når kollegaene forsvinner
Protect your knowledge in MS Teams and Slack
Efficient solutions for personally identifiable information
Legal Timeline - Preparing a chronology and gathering documents
ayfie presents at Barclays AI Frenzy
Experience next-generation knowledge discovery.
Learn how your team can collaborate, innovate and make smarter decisions faster today.