Recent Posts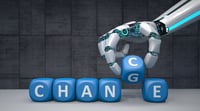 In the era of intelligence, it's all about using data and knowledge in the best way possible for insight and make decisions that give a competitive edge. The knowledge may be in the past, but the way to work and maximize that knowledge is in the future. It's all about next practice and not best practice. By using intelligent technology and AI, lawyers can be freed up from repetitive work and focus more on areas like strategy, vision and ethics, and becoming a strategic enabler for the business.

Read More
Topics: english, Lawyer, brainwork, strategic advisor, blogpost
Hey Siri, When Will Voice Assistants Improve?
Meet ayfie at Legalweek New York (January 28-31)
Happy Holidays from the ayfie team - and some highlights from 2018
Legal Tech Trends: Survey 2018/2019
ayfie Webinar: Jobb bedre og mer effektivt ved å utnytte selskapets kunnskap mot dine klienter - hver dag!
Extracting Insight from Unstructured Content
We solve business problems with data analysis tailored to your needs by leveraging natural language processing, guided machine learning, linguistic analysis and years of experience. Ready to start seeing value from your content?