Nov 10, 2020 10:06:27 AM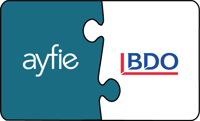 ayfie confirms today that the auditing and advisory company BDO will continue collaboration and extend their license agreement for three more years. ayfie provides solutions to corporations for increased productivity and knowledge discovery leveraging artificial intelligence and machine learning.
Read More
Topics: press release, english, customer
International Law Firm Licenses ayfie's Knowledge Discovery Platform
Internasjonalt advokatfirma lisensierer ayfies Knowledge Discovery
BDO renews 3-year license agreement with ayfie
BDO fornyer 3-årig lisensavtale med ayfie
ayfie Group - H1 2020 Financial Report
Experience next-generation knowledge discovery.
Learn how your team can collaborate, innovate and make smarter decisions faster today.