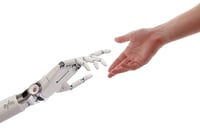 ayfie Group AS ("the Company") is the parent company of the ayfie Group ("the Group" or "ayfie") and is located in Oslo, Norway. The Company owns 100 percent of the shares in ayfie AS in Norway, ayfie AB in Sweden, ayfie GmbH in Germany and ayfie Inc. in the USA ("US").
ayfie is operating in the Norwegian, Swedish and US markets. The Scandinavian companies are providing knowledge management products for law firms and other Scandinavian knowledge businesses. The US company is focusing on the US legal services and financial markets, while the German company is the research and development hub for advanced NLP and machine learning.
ayfie's products are based on Artificial Intelligence ("AI") enhanced solutions built on proprietary linguistics, machine learning, smart search and text analytics. ayfie's technology and solutions are developed by the Group's highly qualified research and development teams - among them computational linguistics experts and computer scientists.