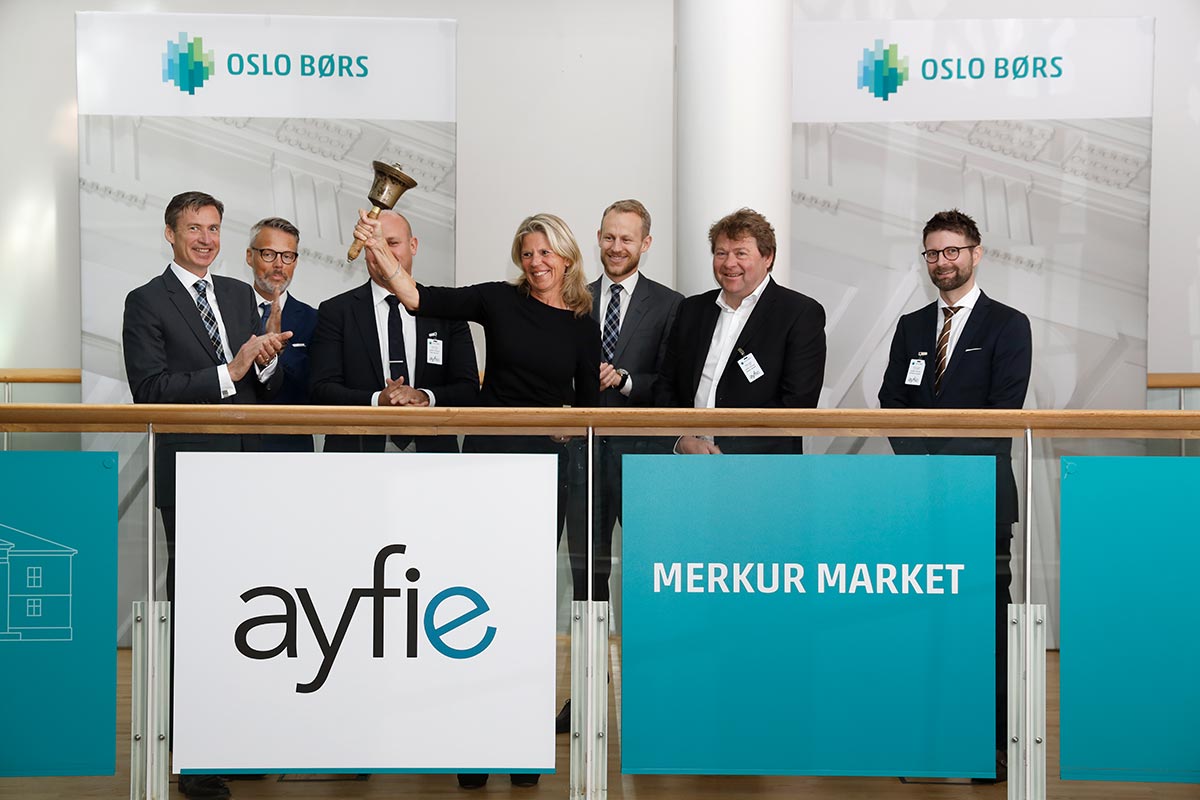 Photo: Trygve Indrelid / NTB Scanpix
Oslo, Norway, July 7, 2020: ayfie Group, a global supplier of text analytics solutions, was listed on Merkur Market today. As part of the Oslo Stock Exchange, Merkur Market is a multilateral trading facility (MTF) - making both the admission requirements and the ongoing reporting obligations after admission simpler and less comprehensive than those of Oslo Børs. However, companies are nevertheless obliged to disclose inside information immediately and on their own initiative and to publish half-yearly financial statements. Hence, we introduced a new INVESTOR section on our website to keep all shareholders up to date.
"This is a great time for us to join the Merkur Market: While COVID-19 is obviously not over, we are definitely seeing business pick up in all areas. Our knowledge discovery product ayfie Locator was recently licensed to several large Norwegian law firms, while our eDiscovery tool ayfie Inspector is gaining traction in the US. As courts get back to work after the lock-down there, we are seeing revenue increase due to a rising number of transactions," says Johannes Stiehler, CEO of ayfie Group AS. "That is exciting news for us and I am looking forward to sharing the excitement with our current investors who have just recently supported us with a significant private placement, as well as with new investors that will become part of the ayfie story through the stock exchange," he adds.
The CFO of ayfie Group, Siw Ødegaard, rang the bell this morning with the support of board members and employees. The first trading was conducted at a price of NOK 2.2. Due to ongoing travel restrictions, Johannes Stiehler was not allowed to attend the exciting event in person. He watched the ceremony online together with ayfie's team members spread around the globe. Shortly after trading had started, the share price rose 25%.
ayfie Group rises 25 percent in stock market debut - Small IT company ayfie Group is up 25 percent on its first day on the Merkur Market stock exchange on Tuesday. [...] Following today's price increase, the company is valued at approximately NOK 260 million on Merkur Market. - dn.no
Tuesday is the first trading day for technology company ayfie Group, which is listed on Merkur Market. The largest shareholder in the company is investor Øystein Stray Spetalen, which through Tycoon Industrier has a 16.55 percent ownership interest. - e24.no
Technology company ayfie is listed on the stock exchange: - Scaling and growth is now the key. After a restructuring and with new millions from investors on book, ayfie is ready for growth.- e24.no
Success on the listing of the ayfie Group - On Tuesday morning, text analysis company ayfie Group was listed on Merkur Market. At the time of writing, the stock is trading at 2.48, giving a market value of NOK 263 million. - finansavisen.no
IT company ayfie Group was today admitted to trading on Merkur Market. July is set to be the busiest month of July ever on the listing front. [...] If all of this year's July graduates are in line with their listing plans, we will have the busiest July month ever with a record number of stock market debutants. - oslobors.no