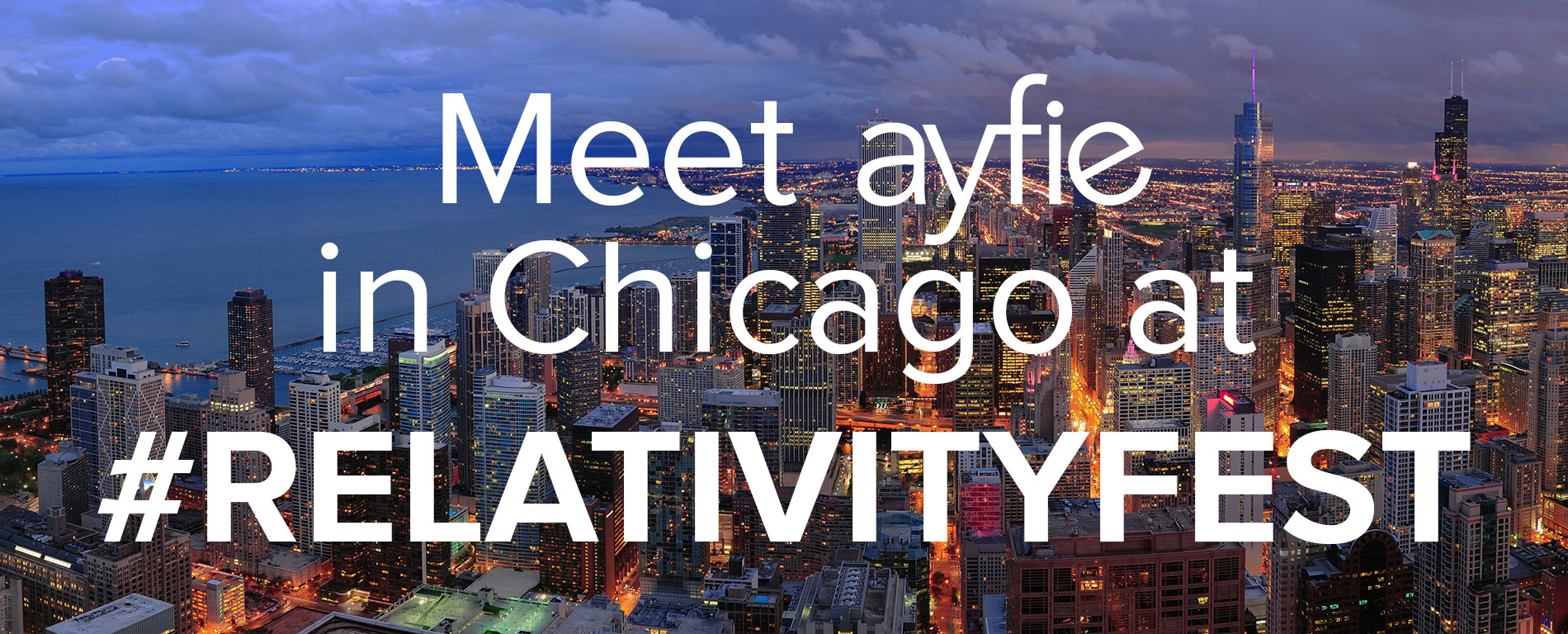 Relativity Fest in Chicago is just around the corner. From October 20-23, ayfie will again be part of this exciting annual conference designed to educate and connect the Relativity® community. Featuring engaging panel discussions, hands-on exercises, breakout sessions and insights from Relativity® staff, "Fest" engages technology users and industry leaders to bring together legal professionals from all over the globe.
As a sponsor, the ayfie team will be onsite to demonstrate the powerful ayfie Inspector for Relativity®. If you are attending, we would highly recommend scheduling a time to meet us and see our solutions live in action.
Five reasons why you should meet ayfie at #RelativityFest.
Learn more about ayfie's new and sophisticated emoji detection feature 👍🆕💡.
And the best thing: We don't just want to show you the feature. We want you to test it yourself in a short hands-on exercise 👐. Everybody who completes this challenge has a chance to win a fantastic prize 🎉!


Find out how much money you can save in eDiscovery.
We recently published ayfie's eDiscovery ROI calculator. Use your chance to talk to our eDiscovery experts at the ayfie booth to understand the ROI associated with upgrading your legal tech solution and build a business case around it.


See ayfie Inspector for Relativity® live and in action.
The eDiscovery Buyers Guide recently published a great video which introduces some of the main features of ayfie Inspector and gives a good overview of our powerful legal tech solution.

But don't just watch the video, come get your hands on the product yourself and experience the ease of use!



Get to know the latest and most useful features of ayfie Inspector.
There are many reasons why our clients love working with ayfie: Entity and concept extraction, the identification of Personally Identifiable Information (PII), search criteria creation and the possibility to work on

international

and mixed language projects are just a few. The ayfie team is more than happy to demonstrate all these powerful features onsite.


Discuss the latest legal tech trends with our experts at the ayfie booth.
Conferences like Relativity Fest are not only about seeing new solutions and extending your network - they are also important to get inspiration and have interesting discussions with other experts. The ayfie team has many years of experience and is happy to talk about the latest legal tech trends and inspire you for your daily work.


And we are pretty sure, there are many more reasons. So, what are you waiting for? Set up a meeting at Relativity Fest now.
We look forward to seeing you at the event! If you're not able to join and still want to get in touch, use our contact form.