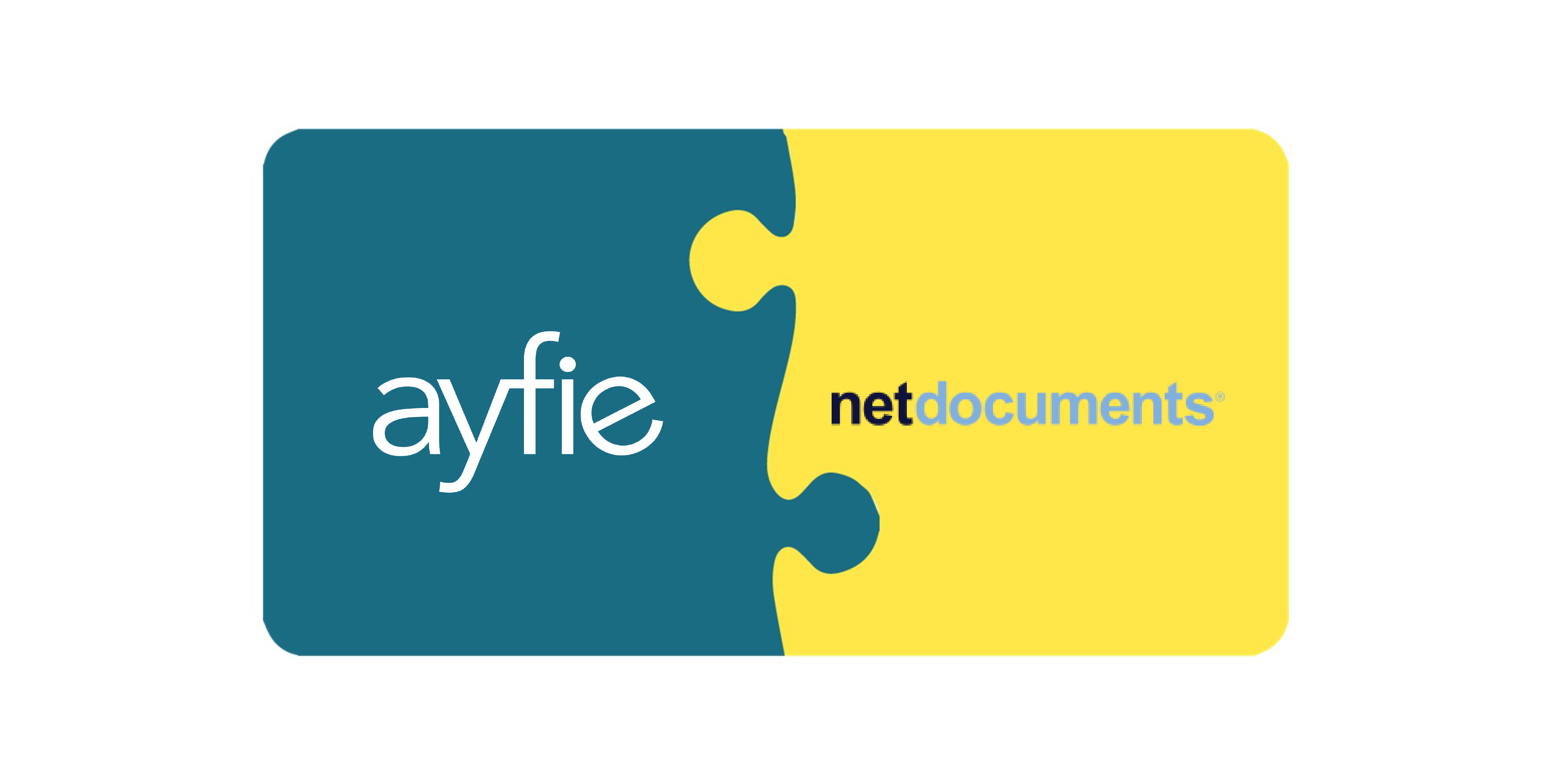 Ayfie and NetDocuments partner to give law firms easy and refined single access to all data across repositories, adding multiple functions for high efficiency workloads and tools for managing personally identifiable information.
Oslo, Norway September 7, 2021
Ayfie, one of Europe's leading Insight Engines, has partnered with NetDocuments to provide a single access point to search across a company's entire suite of software applications. Ayfie Locator unifies data held in different repositories from communication channels such as email, Slack, Teams, in file transfer platforms such as Dropbox, and in archive systems. Now including the NetDocuments document and email management system, this partnership enables easy access to internal and external data repositories while managing valuable knowledge and tracking sensitive data.
Ayfie's semantic engine extracts metadata from every document, spreadsheet, image, pdf, email, etc., and offers refined searching by key features such as persons, organisations, locations, and dates found within documents. Locator supports acting on data by featuring ability to tag or make notes or annotations to a document or organising data in timelines for chronologies that can be exported, allowing for improved workflows.
"Everything catalysed after having our first joint customer" states Peter Richards, Senior Vice President Business Development at Ayfie. UK specialist law firm Fenwick Elliott licenses NetDocuments and the Ayfie Locator product. After receiving outstanding feedback from Fenwick Elliott about their ability to "search everything", Ayfie approached NetDocuments about increasing collaboration. "As a customer-first organisation, Ayfie learned from Fenwick Elliott the benefits of having a single access point into the entirety of an organisation's systems."
"We continue to see our channel program thrive and deliver value to NetDocuments customers. The addition of Ayfie to our ISV program is a prime example and we are excited about collaborating with Peter and the Ayfie team," added Reza Parsia, VP, Strategic Partner Management.
NetDocuments and Ayfie will be present at the 2021 Nordic Legal Tech Event in Stockholm, Sweden on October 7th.
For more information about the NetDocuments cloud platform, please click here. Read more about Ayfie here.
About Ayfie
Ayfie Group is an international provider of market leading search and text analytics products that bring structure to unstructured data. Ayfie's products combine linguistics-based natural language processing (NLP) to accelerate access to insights together with workflow functionality to conduct document review. Companies use Ayfie's products in legal, energy, financial services, government and higher education industries. Ayfie is headquartered in Oslo, Norway.
Learn more at www.ayfie.com or follow us on LinkedIn.
For more information, please contact:
Lasse.ruud@ayfie.com, Interim CEO/ CMO
+47 930 90 008
About NetDocuments
Founded in 1999, with more than 3,220 enterprise customers worldwide, NetDocuments is the legal industry's most trusted cloud-based content services and productivity platform. Complete with state-of-the-art built-in security, compliance, and governance solutions, NetDocuments offers document management, email management and collaboration technology complete with disaster recovery, enterprise search, and matter centricity features. For more information about NetDocuments, please click here.
For more information, please contact:
Jobst Elster, Envision Agency
elster@envisionagency.com
(850)459-4947