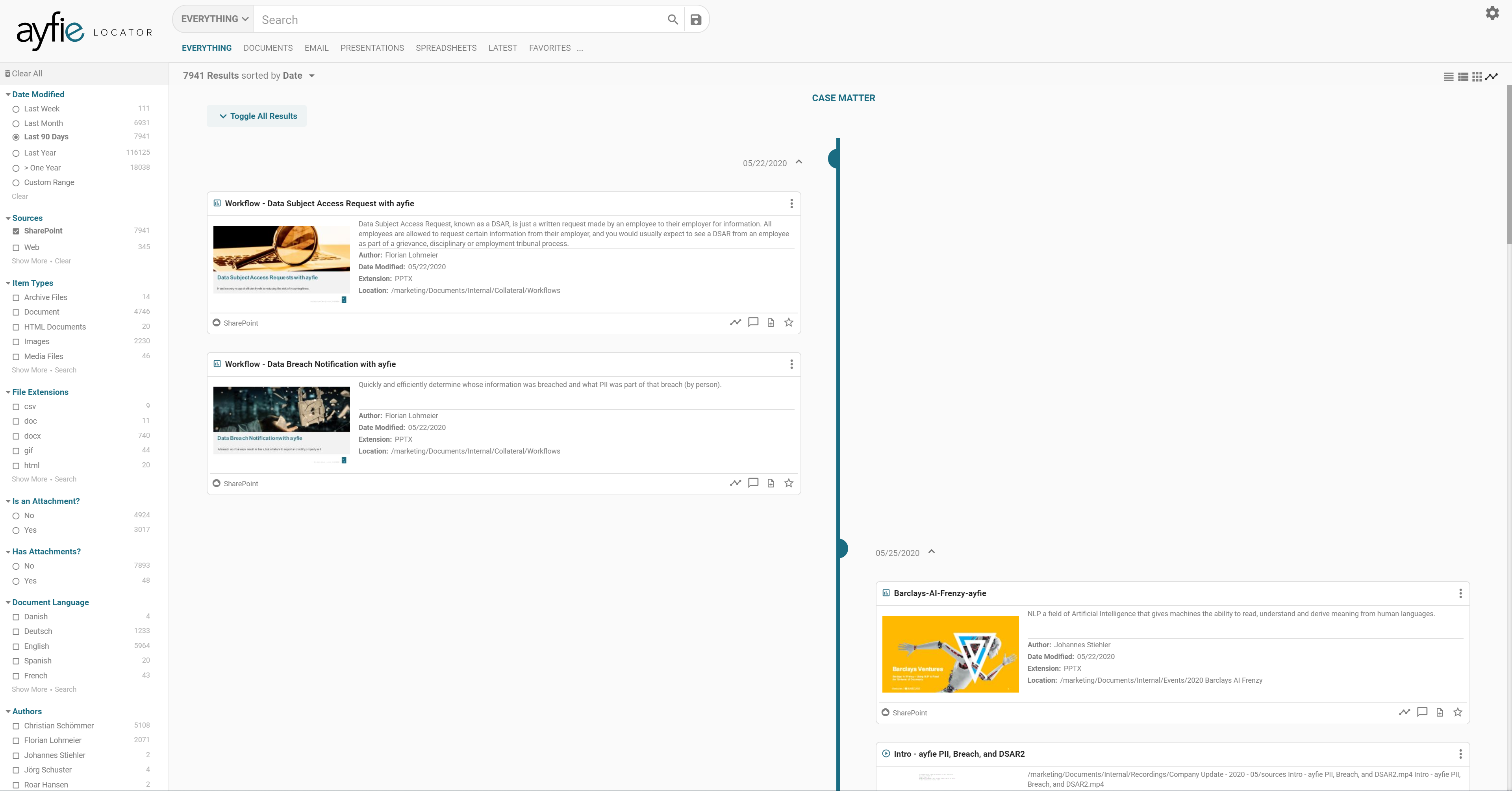 Automatically Build Timelines
Creating chronological timelines out of case data is a time consuming and tedious process as documents are distributed across your DMS, Office 365 files, phone records, witness statements, expert opinions, plead responses, notes and emails. With litigation teams working from home and using tools like Slack and Teams, case data is dispersed even further.
ayfie Locator automates the highly manual process of timeline creation by placing documents in the search index in chronological order. Now it's possible to build timelines with one click and then augment or modify documents on the timeline or even the timeline itself using Locator's annotation, notes and tagging functionality.
Team members working on the case or transaction can review annotations within ayfie Locator, as the notes and annotations are layered on top of the source document. You never have to touch a single file, as just the text from the documents is indexed and available within ayfie Locator.
ayfie Locator's proprietary NLP technology crawls the contents of all documents and our semantic engine extracts dates from within the documents, as well as key entities including persons, locations and organisations mentioned within documents. This allows for a more rapid discovery process, and the timeline can be built based on the date of document or a date mentioned within a document. Our extraction technology is available in 13 languages making international case work easy and efficient.
| | | |
| --- | --- | --- |
| | | |
| Add notes | Adjust date | Add annotations |
One Click Timeline Creation
Select the timeline view to graphically present documents in chronological order.

Add docs and notes to existing timelines.

Timelines are presented as a 'search filter' in the Locator UI.
Enriched Document Metadata with Key Entity Extraction
P

roprietary NLP reads the contents of documents and semantically extracts dates, persons, organisations and locations mentioned within the contents of emails, images and documents.

The extractors can be used to navigate your case, transaction, general search or to filter out

privileged

or sensitive information and narrow down to the most relevant documents.



Tag relevant results
Tag documents on the fly to sort content and create work packages for colleagues.
Add annotations
While previewing documents in Locator, you can search within the preview and then annotate text for future reference by project teams.

Annotations are fully searchable in the Locator UI and you can export annotations to PDF or Excel.
Add notes
At any time a user may add notes to a document or timeline

.

Notes are searchable, and you can even export them. from within the Locator UI.
Export your timeline
Export all Timelines and associated notes, annotations and tags to PDF or Excel.





If you would to see ayfie Locator's new Timeline functionality in action, click the button below to schedule a demo.