Two weeks ago, we published ayfie's first Legal Tech Trends Report. The report was based on a survey of legal tech experts worldwide, that included CIOs, CEOs, lawyers, legal tech professionals, and journalists who were participants in the survey.
This blog post series will take a deeper dive into the different topics discussed in the report. This first blog post covers the state of the digital transformation of the legal sector. To explain the definition a bit further, 0% of digital transformation means that companies are still at the beginning of using legal tech, and 100% means that they are using all possibilities of legal tech.
A comparison of the results from 2018 to 2019 shows the belief in a big step towards an extensive digital transformation. In 2018, only a quarter of all respondents thought that the industry would have come this far, whereas for 2019 almost half of all participants believe that the industry will move in the forward direction when it comes to innovation and digital transformation.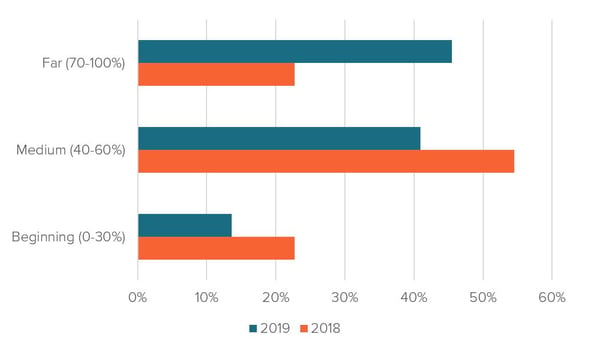 The fast-changing advancements in the legal technology market help with that development because it makes it more attractive for legal companies to leverage the services to save time and money as well as onboard teams using specific software. In addition to that, there is a fear of missing out and losing that competitive edge by not using those state-of-the-art solutions.

The detailed numbers in the following chart show that most respondents say that they will have reached 70% of digital transformation (100% = usage of all possibilities of legal tech) in 2019, whereas the peak for 2018 was only at 40%. However, none of the participants think that 100% will be reached. This is a fair evaluation due to the fact that it will take years due to technical development and the shortage of qualified staff to fulfill the transformation. However, at the same time, we assume that 100% of digital transformation will probably never be reached because of the skill sets associated with the use of new technologies that are continually evolving. People in the legal tech industry will always be chasing the perfect balance and will get closer to adoption as the years evolve, exact 100% is most likely always to be the goal.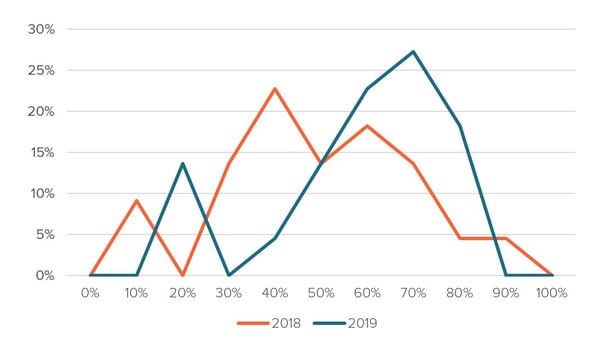 The main reasons for holding back AI innovations in a lot of companies are company culture, talent shortage, data issues as well as the cost factor.
Do you want to read more? All details are covered in our Legal Tech Trends Report 2019 that is available for free download.
Sign up for the Legal tech trends webinar
On May 2, 2019 we will broadcast a webinar based on the results of the Legal Tech Trends report. Sign up for free and get a quick and easy overview of important milestones and highlights of legal tech:
Photo credit header image: sdecoret via stock.adobe.com