ayfie's recently published Legal Tech Trends Report helps its readers to keep stay up to date with the legal tech industry as it evolves so quickly. It highlights the current state of the sector and provides valuable insights into what the future of legal tech has to offer.
In our current blog post series on the Legal Tech Trends Report, we highlight the survey results on various topics. Last time, we wrote about the state of the digital transformation of the legal sector. Today, we're providing you with opinions on whether the usage of Artificial Intelligence (AI) in the legal sector will reduce the cost of legal services.
We asked the survey participants (CIOs, CEOs, lawyers, legal tech professionals, journalists) the question "Will the usage of AI by law firms significantly reduce the costs of legal services in 2019"? As the following chart states, the opinions on that topic vary. However, most of the respondents believe that cost reductions are actually possible.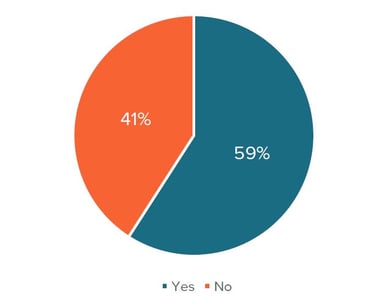 A recent Forbes article points it out very clearly: "Escalating demands on corporate legal consumers to 'do more with less' have raised their expectations and performance bars to levels that even elite law firms cannot wholly satisfy." But there is hope on the horizon – because the right legal tech software can help with that. And as the chart above shows, most of the survey participants think that the usage of AI by law firms will significantly reduce the cost of legal services.
There is a huge cost pressure on law firms, competition is fierce and thanks to legal technology, law firms can work more efficiently and hence offer more competitive prices to their prospects and customers. At the same time, this leads to the assumption that legal services will be available to the broader public due to reduced costs, changing the client structure and service offerings of many law firms.
Another interesting fact is that due to the use of AI, clients will be in better control of their legal services and how much they actually spend on it. A classic example is a corporation that introduces legal technology into their information governance- and document management program. If the company can control the amount and type of data it supplies to its firms, it can also control the spend on the law firm before it even starts working on a matter.
An additional equalizer in terms of saving costs for clients is the use of (Enterprise) Legal Service (ELS) Providers as they can set up programs that reduce legal spend by ensuring the use of right technology and better-priced resources to accomplish low-level, repetitive or non-legal tasks.
Do you want to read more? All details are covered in our Legal Tech Trends Report 2019 that is available for free download.
Watch the recording of ayfie's Legal tech trends webinar
We recently hosted a webinar based on the results of the Legal Tech Trends report. Watch the recording now to get a quick and easy overview of important milestones and highlights of legal tech:
Photo credit header image: sdecoret via stock.adobe.com