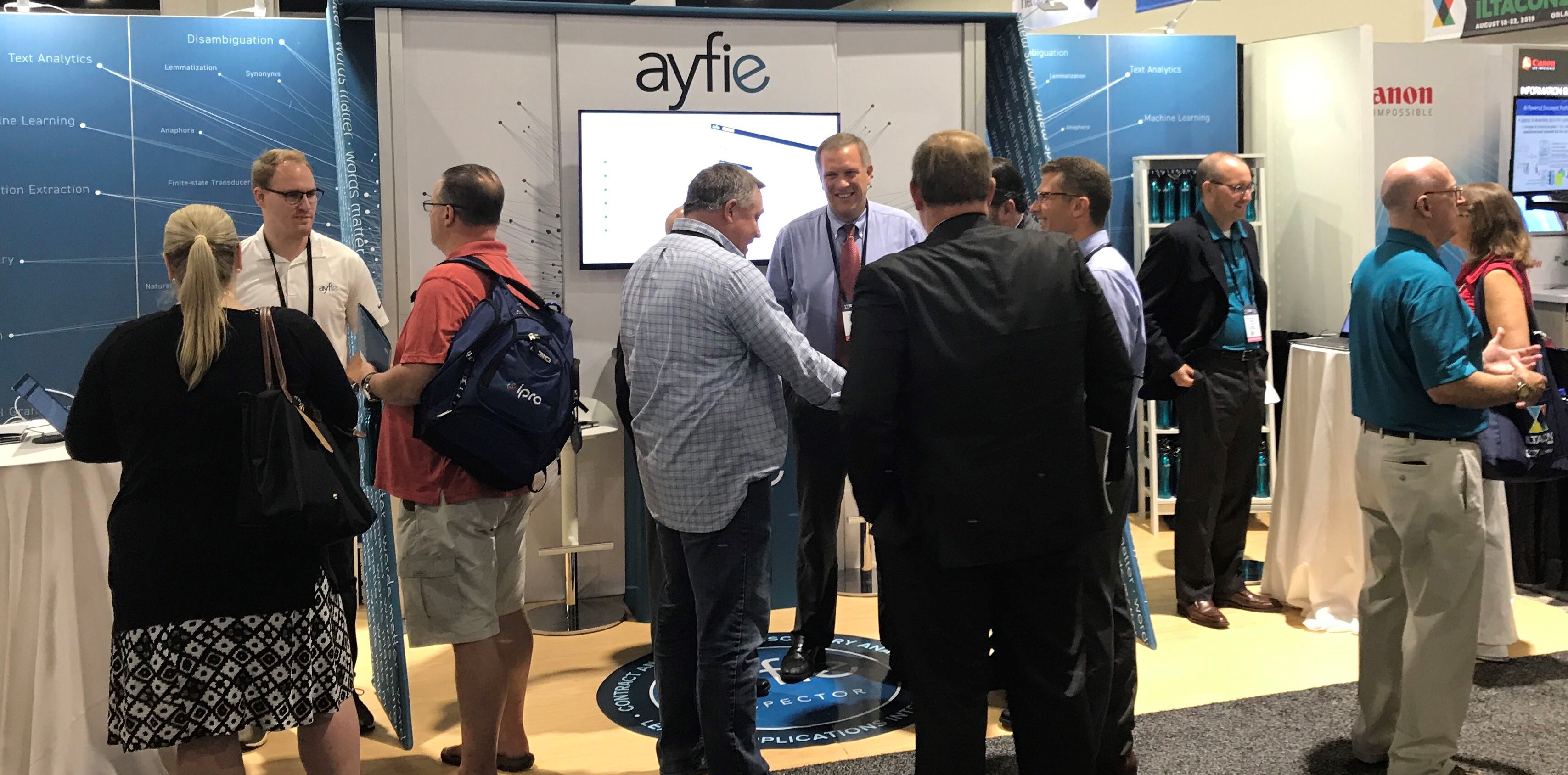 The ayfie team has been to ILTACON the second time in a row, and it has been an incredible event again! For those of you have never been to ILTACON, it is a premier educational and networking event for the legal sector which took place from August, 19-23rd in National Harbor, MD, in the United States. 3.000+ attendees, 200+ educational sessions, and 200+ booths in the exhibition area, show the dimensions of this event.
As ayfie offers a powerful product suite with different solutions for the legal industry, ILTACON is one of our most important events of the year. We had a beautiful booth, met with a lot of customers and prospects, were listening to their challenges, and showed them how we could solve their challenges with our solutions. In addition, our CTO Johannes Stiehler was a member of a panel with the very hot topic "AI meets ethics".
The main difference we noticed from ILTACON 2017 to this years' ILTACON is the quality of the discussions we had. The knowledge of the audience about AI in Legal Tech has been much deeper than last year which led to more sophisticated discussions about trends, challenges and how to tackle them. Also, our product suite has grown a lot over the past year, which led to new solutions we could offer for the challenges our booth visitors told us about.
We want to share our top 5 key insights from ILTA with you - as an inspiration on starting discussions that help you and your company gaining a competitive advantage:
1. Increased need for Knowledge Discovery with PII identification
Not only to comply with GDPR and the latest California regulations, companies need to know more than ever what is in their data, how they can mitigate risks that their data exposes them to, and how can they can better leverage their existing content to make effective decisions.
2. Contract Analysis needs a visionary approach
Automation with AI and Machine learning is making the contract lifecycle management very efficient and cost-saving. More precise entity extraction with NLP without needing thousands of training docs is key to success.
3. Continued demand for compliance archiving
An increasing number of companies has a real need for archiving data, especially email archiving, PII or the whole index of their data. Being cloud-ready comes into play as an important aspect here.
4. More streamlined workflow management in eDiscovery
Compliance, security and risk management are essential parts of EDRM (Electronic Discovery Reference Model) and need to be supported.
5. One solution does not fit all
Nowadays, it is all about partnerships in the legal tech world. Using complementary solutions at the same time can speed up processes, save money and provide better value.
Are you keen on learning more on how ayfie can help you tackling these topics? If so, please don't hesitate to contact us or schedule a demo to see ayfie's products in action.
Last but not least, we want to thank all of our booth visitors for the good discussions, the interest in our solutions and the great exchange about trends, challenges and approaches in the Legal Tech industry.