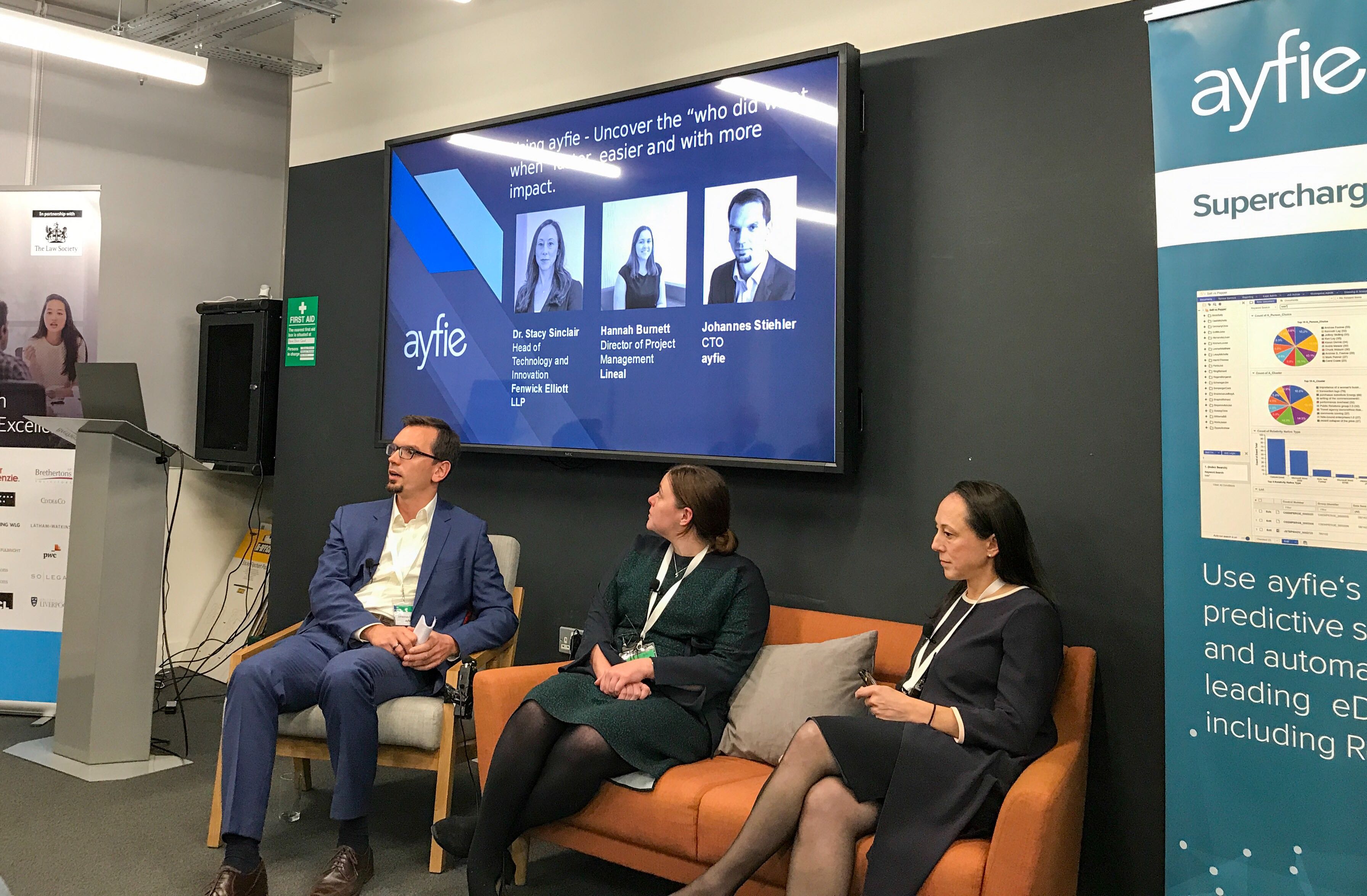 Last week, we held the last edition of ayfie's LawTech lecture series in 2019 at Barclays Eagle Labs in London. It was a great success with exciting talks from Dr. Stacy Sinclair at Fenwick Elliott and Hannah Burnett at Lineal. Under the umbrella of the event topic "Using ayfie - Uncover the 'who did what when' faster, easier and with more impact" both of them were sharing their experience and best practice examples of leveraging the power of legal tech for Early Case Assessment (ECA). After these highly interesting talks, the audience was able to ask questions in a Q&A session, moderated by our CTO Johannes Stiehler. He also gave a quick product demo of ayfie, showing the sophisticated ayfie Inspector solution in action.
In case you have missed the event, we have good news for you: The recording of the talks and Q&A is available now. Make sure to watch it to get inspiration and best practice examples on the latest trends in legal tech from these leading experts in their fields:

Watch the recording of the talks
The following video shows the talks of Lineal and Fenwick Elliott:
Lineal and ayfie: Lawyer Driven ECA (This talk will be discussing how using ayfie puts the power back into the hands of lawyers, particularly around ECA and the new Practice Direction 51U that essentially requires the 'front loading' of disclosure.)
Fenwick Elliott and ayfie: The first 3 months...
Watch the recording of the Q&A and ayfie demo
It is worth diving deeper into the examples of Lineal and Fenwick Elliott by also watching the Q&A session with interesting questions from the moderator and the audience. This video also includes the live demo of ayfie Inspector by ayfie's CTO Johannes Stiehler.
Please sign up for free here to watch the second part of this event video:
Some quote highlights of the event
In case you don't have time to watch the videos now, we want to share some our highlight quotes from the evening with you:
Hannah Burnett at Lineal:
"Inspector helps you understand what you have: how to use it, how to prepare, and to identify topics you should explore further."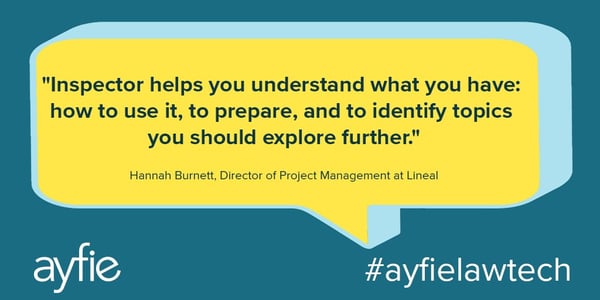 Dr. Stacy Sinclair at Fenwick Elliott:
"The usage of ayfie Locator within our firm is spreading like wildfire. It fills a need and people are coming to us requesting permission to use it."
"We haven't needed to train users because it is so intuitive. We typically spend about 15 minutes to introduce a new user to ayfie Locator. Everyone understands it right away."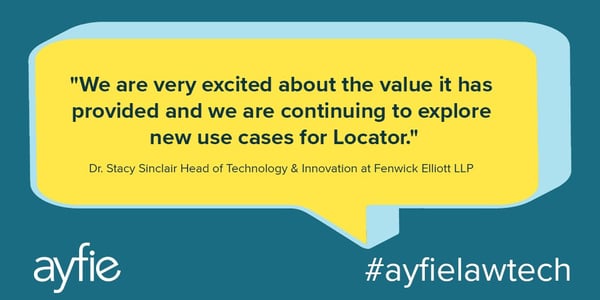 Johannes Stiehler at ayfie Group:
"Inspector gives you many different ways to segment and evaluate your data. From finding and extracting monetary references to viewing how the topics within email change over a given time period."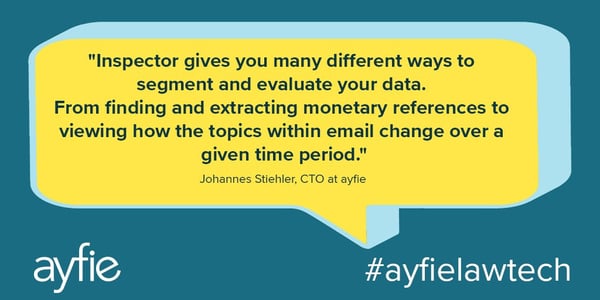 See ayfie live in action