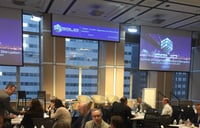 This year's Cowen SOLID Summit provided great industry-specific insight into the legal profession. Here's what the professionals are saying and how we all need to adapt.
ayfie had the pleasure of attending the Cowen SOLID Summit from September 14-15 in New York City with hundreds of legal professionals. From law firms and in-house counsel to executive level and department heads—we connected with the best and brightest in the legal industry to understand their struggles.
The format of the summit is simple yet effective; 4-5 ten-minute provoking legal "ted talk" styled presentations followed by a 25-minute table discussion. Listening to topics like "AI and the Bussines of Law – What Works Now", "Making Your Legal Team More Effective by Leveraging New Tools and Technologies" and "Agile Lawyering" truly solidified ayfie's vision – How can we empower legal professionals through our technology?
ayfie could not agree more with Mark Smolik from DHL that the legal industry is rapidly changing and we all need to adapt. We learned that if legal professionals do not challenge the current Business of Law and adopt new technologies, the performance of law firms and in-house counsel will be affected.
How can we tackle the changing landscape of our industry? By gathering thought leaders to round table discussions, creating working groups, and drafting action plans. At SOLID, we participated in tackling "How to Deploy AI Technologies Within you Organization" and "Creating Next-Gen Business of Law."
Read More
Topics: Events
ayfie, Inc. Continues Growth with Fridgeir Fure
ayfie, Inc. Signs Partnership Agreement With Anexsys Ltd
Lex Tech Review Features ayfie Inspector
ayfie, Inc. Announces ayfie Inspector for Relativity
ayfie, Inc. Named to CIO Applications Top 25 Legal Technology Solution Providers List
Extracting Insight from Unstructured Content
We solve business problems with data analysis tailored to your needs by leveraging natural language processing, guided machine learning, linguistic analysis and years of experience. Ready to start seeing value from your content?